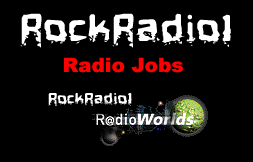 l This site has been helping air talent since 1997!
Report dead links or to suggest a site:

ALL ACCESS ***** Joel Denver's. (Updated CONSTANTLY)

FMQB *** Offers "Dirty Work" ONLINE! (Updates Weekly?)

INFINITY ** Big Dogs. Big Gigs.

EMMIS ** More Big Dogs. Big Gigs.

ENTERCOM ** Big Gigs, nice group.

CUMULUS ** Lots of opportunities here.

RADIO BROADCASTING REPORT** Small markets, mainly.

NAB MASTER JOB BANK** Mother of all Job Banks.

INSIDERADIO* Mainly GM & Sales gigs.

CENTRAL NY JOBS* Upstate New York jobs.

ENTERTAINMENTCAREERS.NET * Timely listings.

CLEAR CHANNEL Many Sales, few on-air gigs.

MEDIA RECRUITER It's mainly TV gigs, also SALES jobs.

MILWAUKEE RADIO GROUP Beer town gigs, aynahhey!

RADIO-TV JOBS LOS ANGELES California Gigs, in the area in and around L.A.

NEW HAMPSHIRE GIGS The NH Job Bank

SOUTH CAROLINA GIGS The SC Job Bank
\



RockRadio1




All links and information provided on this site are free of charge and open to all radio and broadcasting industry
professionals. This site is provided by RockRadio1, which is solely responsible for its maintenance and content.
Any comments or suggestions should be sent to RockRadio1@aol.com.
RockRadio1 1997/2016 C All Rights Reserved.