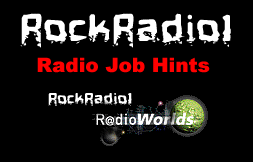 HINT #1: "Using The RockRadio1 Jobs Site
The RockRadio1 Radio Jobs Site is designed to speed your search of possible
radio job openings. The site features radio job sites that are ranked by a star
system. The sites that update more often, have quality job listings, have unique job
offerings, and are easiest to navigate are given the highest number of stars.
Click the

Icon nearest the site name to access that site.
To return to the RockRadio1 Radio Jobs site, simply click the "BACK" button on
your browser.
Some sites (like AllAccess.com) require you to sign up for a username and
password. It's OK to do so. Doing so creates a "cookie" that lets that site know
who you are. Most links do not require a Username: Password to enter.
Rather than have to Bookmark/Favorite Places each of the 30+ radio job sites,
simply Bookmark/Favorite Places the RockRadio1 Radio Worlds. This way you
can return to any of the listed links without having all the individual links hogging
up space in your Bookmarks/Favorite Places.
Now, go find yourself a great new job!


"Putting Together Your Audition Tape"

"Putting Together Your Presentation Package"

"The Effects Of 9-11 On Your Job Search"

RockRadio1



This site is optimized for Microsoft Internet Explorer 5.0 640x480 Resolution

This site property of RockRadio1 Radio & Internet. C 1999/2000/2001